My Hotel Pratunam is located in the heart of Pratunam shopping district where is Bangkok famous place for its boutiques, malls, shopping center are just minutes away, easily reached on foot or with our complimentary Tuk Tuk service. Close proximity to Phayathai BTS station and Ratchaparub Airport link puts all of Bangkok at your finger tips with fast, efficient mass transport system.
New Airport Link to myhotel Bangkok
The new airport link is just opened to make everyone conveniently travel to myhotel Bangkok from airport. Please go to Basement 1 of the Airport and take a city line to drop yourself off at Phayathai station. The cost of city line 15 – 45 Baht /ride depending on distance. Then may I suggest you to take a meter taxi to myhotel Bangkok within cost around 50 Baht. And now you can check in all luggage at Makkasan station to the Airport.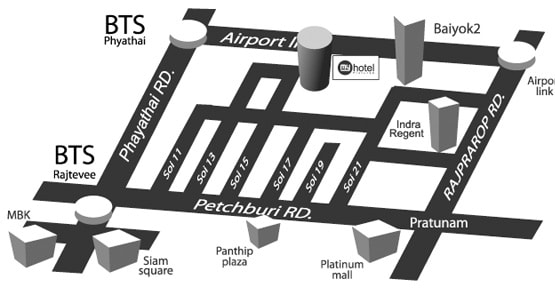 กรุณาพาผู้โดยสารท่านนี้ไปยังโรงแรมแห่งนี้ด้วยค่ะ
สุดซอยเพชรบุรี 15 ถ.เพชรบุรี พญาไท กรุงเทพฯ 10400
โทร. 02 631 9393
Please print this direction guide in Thai language and show it to the taxi drivers at the airport